Best bow sights and the main differences to know before buying
[Updated on 1 August 2022] For a successful bow hunt, you must have the right bow skills and equipment. These skills include knowing how to aim, draw the line, and successfully firing at your target.  Equipment includes a good bow, arrows, and a best bow sights. These skills and equipment all need to be in sync, in both your body and mind, for the best outcomes. A proper sight will help you with a successful hunt.
A modern-day bow is designed to shoot flat for a couple of yards. This is why bow sights are better than doing guesswork when aiming a target with your eyes only. You will have improved accuracy when you look through the pins in a sight, even at different ranges. This is the most effective way to reduce human error when hunting with a bow.
How to choose the best sight? The best sight depends on how and where you prefer to go bow hunting. Do you know the difference between a compound sight or recurve bow sight? In this product guide, you will learn more about the features and differences in bow sights before purchasing your next sight.
Types of pins
Single Pin
A single pin sight is designed to have only one pin in the sight aperture. The sight housing of a single pin can be adjusted quickly. You will have no problem moving the sight up and down while in the field, and there is no need for an additional tool or device to adjust the sight. A single pin often has easy-to-access levers with readings to use to alter the range before taking a shot.
Multiple pins
Multiple pins are commonly found in many bow sights. They range from 3 to 7 pins, depending on the type of bow sight, brand, and design. The pins are visible through the sight aperture and help you estimate the distance of the target and make an accurate shot.
How to adjust and fix pins
Know how to make adjustments to the pins to achieve a sight window that fits your preferences.  Some of the pins are colored, which makes it easy to find the best aperture when hunting, even in harsh environments or bad weather.
It is a good idea to sight the pins at easy-to-recall intervals. You will only need to zone them when making a quick shot, within a preferred range, and with the preset adjustments. 
It is also good to have a fixed range that you can fine-tune quickly when needed.  For example, assign the first pin at 10 yards. Then allocate the rest of the pins to other pre-set shooting distances.  Such as 25, 30 or 40 yards. This way, you can choose the right pin quickly when shooting at targets from different distances.
What do pro hunters prefer?
While some pro bow sight hunters find multiple pins to be all they need, many pro hunters go for the single pin sight. The downside of the single pin sight is that it requires making further adjustments whenever the target changes distance or goes out of range.  Let's use the example of a restless deer in the bush. A multiple pin sight allows you to smoothly shift to another range when the deer moves away, saving you the time of making the adjustments you would need to with a single pin sight. With a multiple pin sight, you only need to have mastered the pins and the ranges. Check the following list of finely-selected bow sights to help in your selection.
Here is the list of 5 best Bow Sights
Image
Title
Prime
Buy
Apex Gear AG2301GB 1 Dot Covert Pro Sight, Right Hand/Left Hand, Black

Prime

Buy Now
HHA OL-5519 Optimizer Lite .019 5500 Sight (Black)

Prime

Buy Now
IQ Bowsights Bowsights/Pro Hunter RH Black

Prime

Buy Now
TRUGLO RANGE-ROVER PRO LED Bow Sight, 1-Dot (TG6401GB), Black

Prime

Buy Now
Trophy Ridge Volt 5 Pin Bow Sight, Black

Prime

Eligible

Buy Now
5 Bow Sight Reviews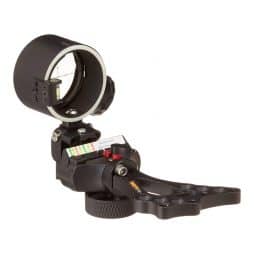 When reticle sights were first launched in the market, they became the most sought-after devices. However, these gimmicks left an awful taste in many hunters' mouths. Currently, bow reticle sights are more improved and sophisticated. To a great degree, they work even better than the traditional pin sights. 
The Apex Gear sight is the definition of a perfect reticle sight.  This is due to the illustrated dot, a simple single-hand adjustment feature and a small adjusting windage knob. There is a reason why Apex Gear Convert Pro is considered the best reticle bow sight. It is super strong, which allows you to take clear shots, and it absorbs the release well, leading to maximum force for shooting the arrow straight toward the target.
You don't need to be a pro to use the Apex Gear. If you intend to upgrade your hunting bow, you can bet on this one. It will boost your shooting skills and turn your hunting into a memorable experience. You may still need to sharpen your skills, but this device makes everything even more straightforward.
Pros
Very easy to dial in and use

Fast and accurate field adjustments

Easy to read and see

Has adjustable brightness
Cons
May appear awkward for long-time pin bow sight shooters

Somewhat pricey
Check out this video for complete review.
If you are looking for pin sights, and you need a full-fledge sight, like the Apex, check out the vertical pin sight. Many pro hunters believe that the HHA optimizer lite is the best vertical pin sight available. This has a stronger pin compared to the plastic reticle. You can easily make range adjustments, and the sight remains perfectly unshaken while you keep your eye fixated on your target. 
The HHA is designed with a single illuminated pin that is visible even in limited light. It can easily be adjusted to several range levels with one hand, which is helpful when taking long shots in windy or harsh conditions. A key feature of this bow is its well-built design that allows you to be up and on a target in just a couple of arrows. Some would say that the Optimizer bow sight is meant for the pro hunter.  If you are a pro or just an enthusiast, try out this sight, and give HHA a few shots.  
Pros
Setting up and sighting is easy

Fast, easy adjustment

Strong and hard-wearing
Cons
Somewhat pricey

May seem heavy – especially for first-time users
Check out this video for complete review.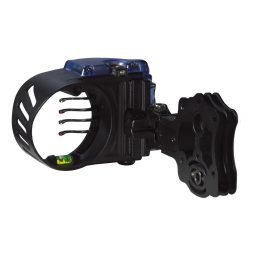 Are you looking for the best multi-pin bow sight? If so, this is your sight. If you love the traditional bow style, and still want the pin sights, you are covered.  With this sight, simply point your pin at the target and begin shooting arrows. There is no need for adjustments. It's that simple. Many people have hunted game using old-fashioned sights with ease, but this modern-day version is greatly improved and slick.  This sight is not like the old bras pin types.
Field Logic is turning the tables with their new and fashionable bow sights that work well – even for newbies. The IQ series of sights introduces extra useful sight pins. The illuminated sight pins are perfectly adjustable and helpful in low light. Their proprietary retina-lock design enables you to find and fix errors.
The greatest thing with Field Logic, is that they guarantee their products. And, because of their innovativeness, Field Logic is also perhaps the best pin style sight on the market.
Pros
Easy to adjust

Effortlessness and exact setup

Illuminated and easy to see

Enables you to fix shooting issues
Cons
Beginners can find the installation a little bit complicated
Check out this video for complete review.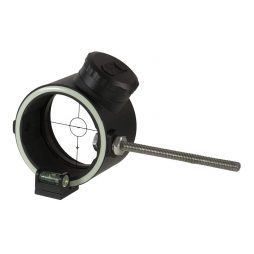 TRUGLO is one of the best budget reticle sights you can buy, and has been used in archery for decades. It is almost impossible to find a die-hard hunter who doesn't know the TRUGLO brand. You definitely cannot separate a trusted brand name from a highly-revered product, and you will love the quality. 
TRUGLO is designed with intricate features that help you make seamless adjustments to your preferred position. However, a lot of fine-tuning may ultimately muck-up your shot. Therefore, start by making a few simple moves at a time to ensure your setting are on point. Initially mounting TRUGLO may take some time. However, once you get the hang of it, it is easy to mount and make fine adjustments as you take a shot.  You will have a quality sight for life with the TRUGLO Range-Rover Pro 2 Dot.
Pros
Strong and long-lasting

High-quality and accurate

Easy to setup – tool free
Cons
Acquiring extra features may be costly

Heavy and complex
Check out this video for complete review.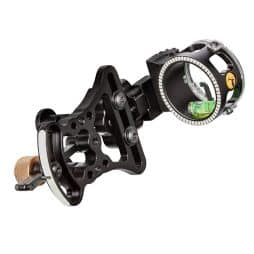 Are you looking for a vertical pin sight that is within your budget and guaranteed quality? Look no further than Trophy Ridge. There is a reason why many bow hunters are now opting for Trophy Ridge. It will not let you down when it comes to quality and durability. It does the job, and lasts longer than you'd expect. This sight is also the most affordable.
Trophy Ridge doesn't promise whistles and bells, it simply offers you a single and an easy to adjust hi-viz vertical pin. The initial set-up of this sight may be a bit harder for first-time users, but it doesn't take long to figure it out. Start by making significant adjustments before moving to fine adjustments.  Then, off you go, hunting like a champ! 
A positive attribute of the Trophy Ridge sight, is that it has straightforward guidelines that can get you from an amateur to a pro in no time. Not even a tight budget can stop you from enjoying hunting. Pick up Trophy Ridge and get shooting.
Pros
Easy adjustment and setup

Light 

Clear, no-frills, sight
Cons
May be difficult to read in bad weather or terrain
Check out this video for complete review.
Frequently Asked Questions(FAQs)
So, which bow sight is the best for hunting?
The best bow sight for you boils down to your hunting needs and budget. If you are just starting out, begin by learning the types of pins and their importance in making the perfect shot. The time of year and hunting location are crucial factors to consider before buying your sight. For example, when hunting from a high position in the bush, a pendulum sight may work best because it is designed to work in uneven terrain, such as cliffs or trees. The well-illuminated pins help you to get a clear sight, especially when hunting in a harsh environment or in bad weather.
Why are sights costly?
Some bow sights are indeed costly. You can check out the listed examples and select one that is within your budget. We have placed different types of sights with different prices to help meet your needs. Mostly, the price of sight has been increasing due to rising demand from bow hunters. People are also buying sights for archery which is becoming a fast-growing sport around the world.
What bow sights work best?
Bow sights are more accurate when the target's distance is known. When hunting from a tree stand or blind, you can use the distance to an anticipated location of the game as a goal. After that, it is simply a matter of placing the correct sight pin on the target.
Do bow sights fit all bows?
Most bow sights can be fitted to most bows.
Conclusion
The bow industry is growing and expanding. There are new accessories with novel designs and features, making hunting even more enjoyable. The challenges of the traditional bows without sighting devices are no longer an issue. The introduction of new and stylish bow sights is making hunting more than just a hobby.
Bow hunting has always been a challenging sport with a learning curve. Hunters need to learn and practice skills such as body posture, focus, and concentration. In addition to these skills, bow sights help hunters aim more precisely for an even more fun and successful hunt.  
Get bow hunting! What are you waiting for? Pick the best set of bow sights for you, dial them in, and get rolling. With dedication and practice, you are good to go!