The Best Recurve Bows in 2023 (Best For Beginners, Best For Advanced Archers and Best For Hunting and Target Shooting)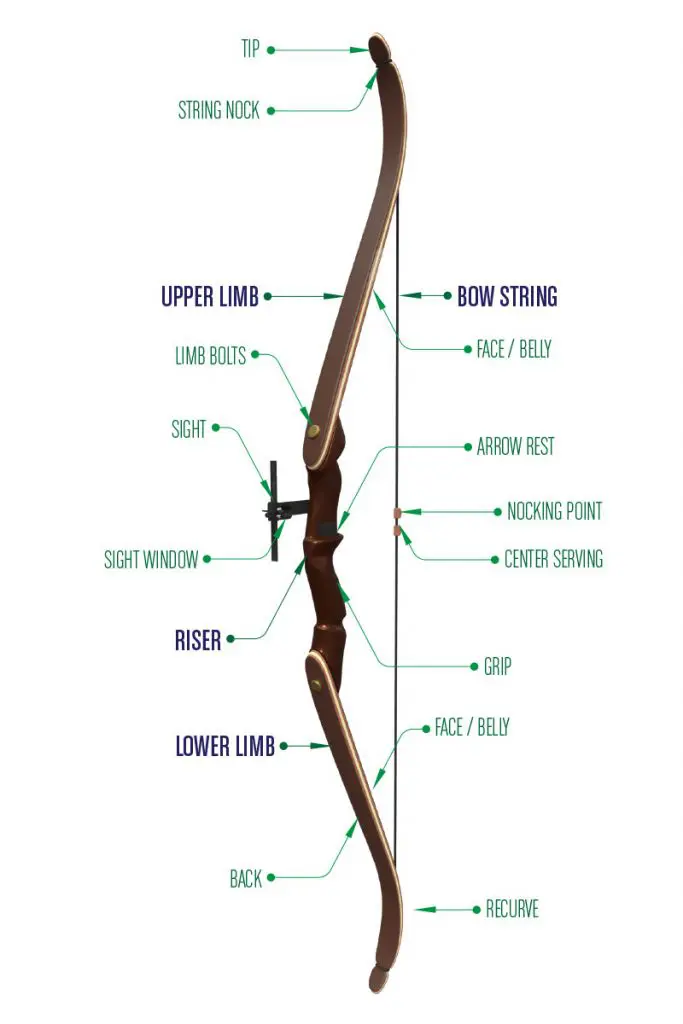 [Updated 1 August 2022] The origin of the first recurve bow is still unclear.  Some think they originated from Asia while others say they were invented in the Middle East.  Others believe the Egyptians were the first to make recurve bows. That aside, the bow is a compact style specifically designed for hunting and archery.  They tend to be more advanced than the longbows that the western cultures preferred. They are more accurate due to the curve of the limbs. The limbs move away from the user, letting more tension to be propelled in the bow for more force when the archer unleashes the arrow.
With more power on the bowstrings, the arrow will go faster and further when released.  
There are several options for re-curve bows in the market today, therefore picking one can be difficult.  Since their invention, recurve bows have undergone a lot of transformation as the material used to make them has also evolved. Today, it is easy to find bows designed for almost anyone, including teenagers and even beginners.
Recurve Bows are one of the several types of bows which are used for recreation. The bow's physical shape can be described as the figure of a number 3, with far less exaggerated curves, and it differs from a straight bow (which ironically) is in the vague shape of a letter C. 
Taking a deeper dive into Recurve Bows:
Below is a recap of how to choose a recurve bow: Complete Checklist/Buying  Guide
One thing you should always consider is the draw weight.  You should pick a draw weight according to your body type and ensure that you go for at least 40 lbs. of draw weight if you want a bow for hunting.  Any draw weight will manage for target shooting.
You will also need to decide between a takedown or a one-piece bow.  The weight of the actual bow should be less than 3.4 pounds for beginners, and as a rule, the bow length should also be at least two times as long as the draw length.  
Some bows have pre-drilled holes for accessories, so consider this if you would like to have extra attachments.
Because drawing a recurve bow is more difficult than drawing a compound bow, the user must use more power. This is true whether they are shooting a single-piece recurve bow, or a takedown bow (that can be broken down into three pieces). 
The checklist below contains some of the important factors that you need to keep in mind while shopping for a recurve bow.
Portability 
Ideally, it's advisable to go for the takedown bows. This is especially the case for beginners since they're easy to transport. When we talk about a takedown bow we're talking about separating the riser and the limbs. The other advantage with take-down bows is that they're easy to replace, that's if one part gets broken. 
Purpose
Why do you want to buy the recurve bow? Will you use it for hunting and target shooting? if that's the case then you ought to get a recurve bow that can generate adequate power. As such the draw weight ought to be on the higher end. However, if you're a beginner that looking to get started with archery, then go for something manageable and with the lower draw weight. 
Price
In most cases, you get what you pay for. That's why cheap is often very expensive. Ideally, we're not saying that you should opt for the most expensive bow available, but something of quality. If you're a beginner, just go for something manageable that will allow you to make some mistakes as you level-up on your skills. 
Draw length and draw weight
When we talk about the draw weight, we're referring to the amount of force that you need to apply on the bow. On the other hand, the draw length is the distance between the throat of the grip and the nock point. These two factors come in handy when you're purchasing a recurve bow.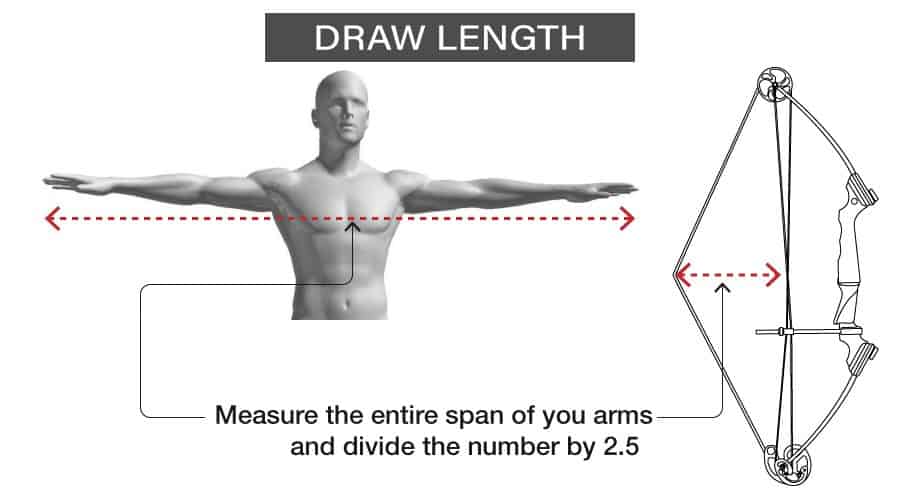 Quality of the risers and limbs
The kind and quality of materials that are used in making the risers and limbs plays a huge role. For instance, a fiberglass bow performs much differently (and consistent) than a wooden one. Aluminum risers are also accurate and they do a much better job. Long story short, be on the look-out for the right materials.  
In this section, you will find the best bows for those just getting into archery. The market place contains a wide selection of recurve bows for beginners, and that's why we delved deeper and conducted some research and tests. The information contained in the list below will save you a great deal of time and money, especially if you're just getting started with archery. 
There is no such thing as the best recurve bow for all archers – it all boils down to personal needs, and skill level that an archer is at. Our goal is to lay down the information\specifications and compare the various options available in the market.
Our research team considered various factors as we looked at the recent and old models. 
The main factors include:
Price

Technical specifications

Color and style

Draw weight

Bow size

Accompanying equipment and features
With all these factors in mind, you're more likely to make an informed decision and get the best buy. Either of these re-curve bows will suit your fancy and get you ready to score your first bulls-eye.
Here is the list of the best recurve bows for beginners.
Image
Title
Prime
Buy
PSE 10 Snake Recurve Bow, 60-Inch, Black

Prime

Buy Now
Southland Archery Supply SAS Spirit 66" Take Down Recurve Bow with Black Limbs (32 Lbs, Right)

Prime

Buy Now
PSE Archery Razorback Traditional Takedown Recurve Recreational Shooting Bow, Right, 62"- 25

Prime

Eligible

Buy Now
As previously mentioned in a previous article, PSE is a famous bow manufacturer. 
One of their products which is ideal for young archers and teenagers is the PSE Snake Recurve Bow. The composite structure of the 60″ PSE Snake bow is a magnificent choice for teens, youth camps, and backyard shooters looking for the perfect bow to begin archery.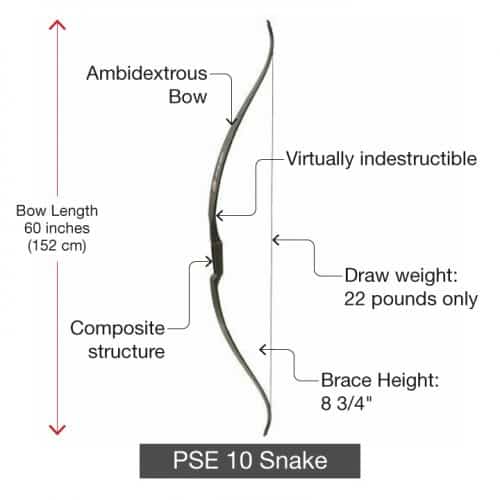 The PSE 10 Snake is one of the most durable and lightweight bows available in the market. It is a simple, yet aesthetically pleasing, designed bow with an ergonomically shaped handle, that lets users hold and use it comfortably for a longer time.  It has a lighter draw weight (typically around 25 pounds), which means it is purposefully made for older children and teenagers in mind. Because of its size, younger kids may not be comfortable while handling the PSE 10 Snake.
It is also a light one-piece design bow, meaning it is durable and almost indestructible.
Being a one-piece also means it does not make noise while shooting.
Since it is one piece, it does not have places where you can attach accessories.  However, an experienced person can drill holes for you to fix accessories if you wanted to add them later.
The bow is great for both left or right-hand shooters and is also affordable and hard to damage.  
One disadvantage is that it only comes in single draw weight.  Due to its low draw, any hunting will be limited to mostly small animals, like turkeys and rabbits.  Most people buy this bow to start archery, and as soon as they get experienced, they pass it on to the next learner.
FEATURES
Bow Length:       60 inches (152 cm)

Draw Length:     29 inches (73.5 cm)

Bow Weight:       2 lbs. (0.9 kg)

Draw Weight:     ~22 lbs. 

Ambidextrous Bow

Composite Riser
PROS
Ambidextrous design

The composite design makes for an instant assembly

Highly accurate shooting for its price

Virtually indestructible

Beginner-friendly

Lightweight for easier carry
CONS
Draw Weight is limited to ~22 lbs.

Does not include bow stringer and arrows

String included tends to quickly wear out
The company where the bow originated from, has been known to produce great bows and there seems to be no exception with this particular product. The bow is made of a TEC riser, a handmade Flemish twist string, and takedown limbs which makes it one of the best recurve hunting bows. It also comes with a custom case for the proper storage of the limb and riser that will prevent wear and tear.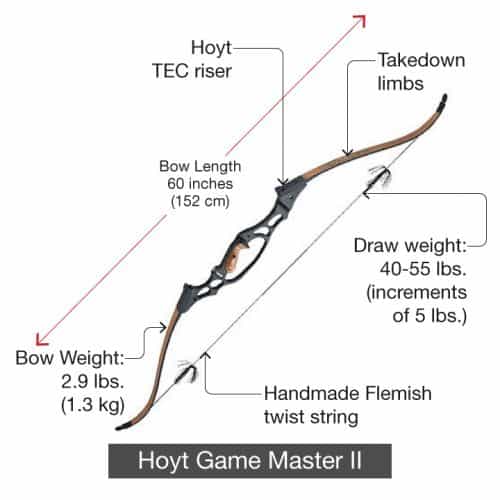 The Hoyt Game Master 2 can be used by both beginners and professionals. It has a draw weight between 40 – 55 pounds with increments of 5 pounds.
FEATURES
Bow Length:         62 inches (157.5 cm)

Bow Weight:         2.9 lbs. (1.3 kg)

Draw Weight:        40-55 lbs. (increments of 5 lbs.)

TEC riser, ultra-thin design, durable

The custom case prevents wear and tear

Unique design, giving you a comfortable grip and allows all energy to be transferred to the arrow
Check out this video for complete review.
PROS
Highly Stable, Accurate and Durable

Very Lightweight

Right tuning can remove hand torque and vibration

Has a replaceable grip
CONS
The look of the TEC riser might be unpleasant to some
Another great option for a novice is the Southland Archery Supply SAS Spirit 66''. Because it is light, and children can handle it well, it is an ideal bow for children to start off shooting.  Because it is made of fiberglass and maple, this bow is durable and likely to last many years.
If you're looking for a heavy-duty bow that can withstand even the toughest conditions,  The Southland Archery Takedown Recurve Bow is the way to go.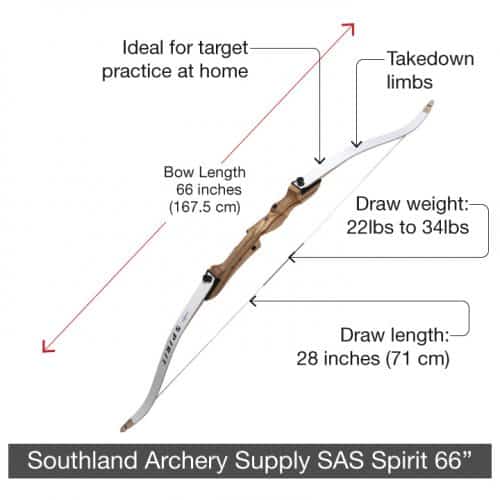 This bow is well-designed with the flexibility to bend and not break, a useful feature to take down targets and works well for both right-handed and left-handed shooters.  
Whether you are learning how to shoot at your own backyard,  to planing on taking to your next hunting trip in the woods, the Southland Archery Takedown Recurve Bow would certainly be a good choice. It is practical, efficient, and easy to use, and the durability of its construction makes it likely to be a bow with long-lasting use. 
The recommended maximum height of the archer for this bow should be six feet, making it an excellent choice for an adolescent shooter.  The model is available for both right-handed and left-handed, users so selecting the right version will not be an issue.
The draw weight also ranges between 22lbs to 34lbs with some iteration in the middle.  
The Southland Archery Supply SAS Spirit 66'' may seem ideal for target practice just at home, but it can also be used while hunting small game and/or birds.
As such, this is a great pick for children growing up and are interested in learning how to use a bow.
The biggest complaint we have is that the string is not as durable as some of the other bows, and may need replacement sooner than you expected.  
FEATURES
Bow Length:         66 inches (167.5 cm)

Draw Length:     28 inches (71 cm)

Bow Weight:         2.5 lbs. (1.1 kg)

Draw Weight:        22 lbs.,

26 lbs.,

30 lbs., and

36 lbs.

Ambidextrous Bow
PROS
Beginner friendly and can be used a gift item

Ideal for target practice as it shoots good and draws easily

Fast delivery service
CONS
A loose string which doesn't seem to fit
In 1970, Pete Shepley founded what we now know as Precision Shooting Equipment (PSE). In the 20th century, PSE is one of the largest privately-owned archery in the United States. 
The Razorback Recurve Bow is made of Walnut, Burmese, and Beechwood laminated riser with maple fiberglass limbs. These materials account for the lightness in terms of its weight. However, the bow is sturdy enough for archery practice and competition uses.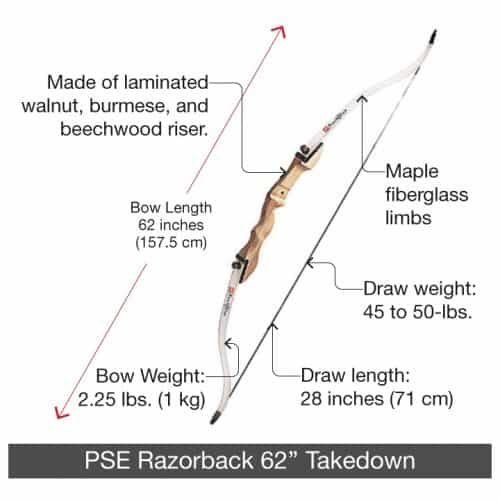 These features alone make the Razorback Recurve Bow one of the best for beginners amongst others.
For the youth and young adults, this is the best piece for introduction into archery because it has of its lighter draw weight.  It is also an excellent choice for people with smaller body frames because the handle is designed to suit smaller hands.  
The bow is made with quality Maple wood laminate limbs,  and is finished with a Walnut and Burma White Wood and Beech takedown riser, which makes it easy to move and around and more convenient for users.
The PSE Razorback 62'' Takedown is one of the most beautiful bows you can find around.  The fact that it is so beautiful and affordable meant that the company must have compromised on another aspect of it.  
It is a sturdy hunting bow that can hunt down several animals and birds. It does not come with a padded grip, and the riser is manufactured from the same fiberglass-laminated hardwood as the whole body of the bow, providing the user with reliable steadiness. 
The draw weight is usually between 45 to 50-lbs. However, you can find models that are slightly lower in the market if you do your research.
FEATURES
Bow Length:         62 inches (157.5 cm)

Draw Length:     28 inches (71 cm)

Bow Weight:        2.25 lbs. (1 kg)

Draw Weight:        20 lbs.,

25 lbs.,

30 lbs., and

35 lbs. 

Right Handed Bow

Wooden Riser
PROS
Excellent for beginners such as kids, teens, and adult women

Pre-drilled to accommodate stabilizers and various other accessories

Tool-less knob for screwing and unscrewing the limbs

Berger buttonhole for cushion plunger

Affordable and very durable for its price
CONS
Less Size Options

Unsuitable for hunting

Does not include arrow rest in the box

White Colored lines
2. Best Recurve Bows for Advanced Archers
Due to their experience, advanced archers would require something more advanced and reliable than the ones for beginners.  Below are some of the best recurve bows out there in the market for more advanced archers.
Here is the list of the best recurve bows for advanced archers.
Image
Title
Prime
Buy
Bear Archery Super Kodiak 60 Recurve Bow Right Hand 40 lb Dymondwood Riser Maple and Fiberglass Limbs, Black/Brown Maple

Prime

Buy Now
SinoArt Falcon 60" Takedown Hunting Recurve Bow Metal Riser 70 Lbs Black/Camo Right Handed (Black)

Prime

Eligible

Buy Now
The Bear Super Kodiak Recurve Bow was produced by Bear Archery in 1967, with expert archers giving it outstanding reviews ever since. Being considered a classic, the bow is a masterpiece that exudes elegance and boasts of its attention to detail that is unrivaled by competitors.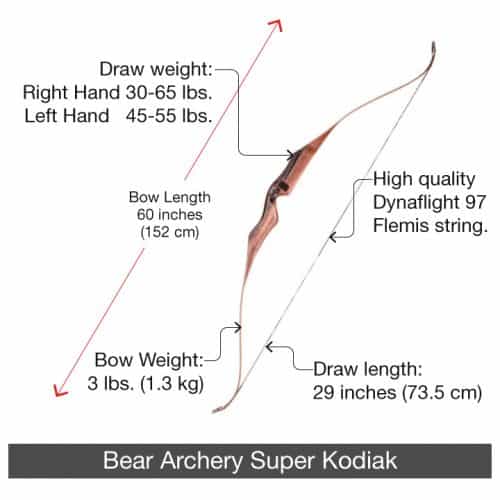 At a price point between $500 and $1000, depending on how it is equipped, this powerful bow is built to take down big game such as antelopes, bears, and buffalo.
When you mention the Bear Archery Super Kodiak, quality is the first thing that comes to mind.  You can also expect nothing but the best with such a price tag.  
The bow measures 60 inches and is not suitable for a learner.  However, for an advanced or seasoned, it is the optimal choice.
As you look at its build, you can't help but notice that a lot of detail was put into each step. The arrow shelf, as well as the leather side plate, are complete with a patented Bear hair.   The black maple that the dual riser is made from is designed to make sure that this part of the Bear Archery Super Kodiak is extra durable.
When you look at the limbs, there will be no need for any questions, as they speak for themselves.  They are flexible yet crafted from maple, and black fiberglass has been used to reinforce them, making them usable for several years.  
The string is Dynaflight 97 Flemis which is of very high quality.
One can say that the Bear Archery Super Kodiak not only has an outstanding build, but its performance also surpasses many others.
The only con with this bow is the hefty price, however, if you are an avid archer, you would not mind the price tag.
FEATURES
Bow Length:         60 inches (152 cm)

Draw Length:        29 inches (73.5 cm)

Bow Weight:         3 lbs. (1.3 kg)

Draw Weight:        Right Hand 30-65 lbs. and

Left Hand   45-55 lbs.

Available in Right Handed and Left Handed Bow

One-piece bow
PROS
Tried and tested design

Suitable for powerful hunting

Convenience in holding and drawing
CONS
Incapable of mounting a sight
This particular bow has a thermal grip to keep your hands warm, which also lowers the chance of them getting tired while holding the bow. This, along with the varying draw weight of between 29-55 pounds,  makes it good for uses such as hunting and bow fishing. Another plus is the aluminum and magnesium materials used to make the riser, which makes it durable and light-weight.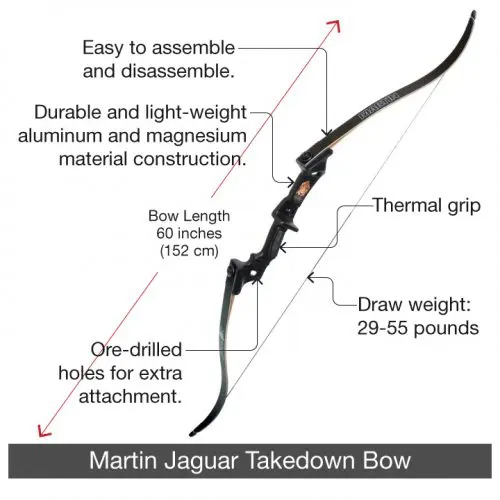 Not forgetting the fact that the Martin Jaguar Bow is designed to appear very attractive, the design also comes with the advantage of being easy to assemble and disassemble. These characteristics make the Martin Jaguar one the best recurve bows in the world. 
FEATURES
Bow Length:         60 inches (152 cm)

Draw Length:        30 inches (76 cm)

Bow Weight:         2.8 lbs. (1.3 kg)

Draw Weight:        30-55 lbs.

Aluminum-magnesium alloy riser
Check out this video for complete review.
PROS
Highly Accurate

Easy Assemble

Very Lightweight

Can have extra attachments due to ore-drilled holes

Good quality string

Gives good value for its price
CONS
Works best with right-handed archers

After constant use, replacement might be needed for the arrow rest
The SinoArt Falcon Takedown Hunting Recurve Bow Metal Riser Right Hand has a metal handle with magnesium and aluminum alloy put together with hardwood.  The bow is easy to move around and is also comfortable for a beginner, as it won't strain the user.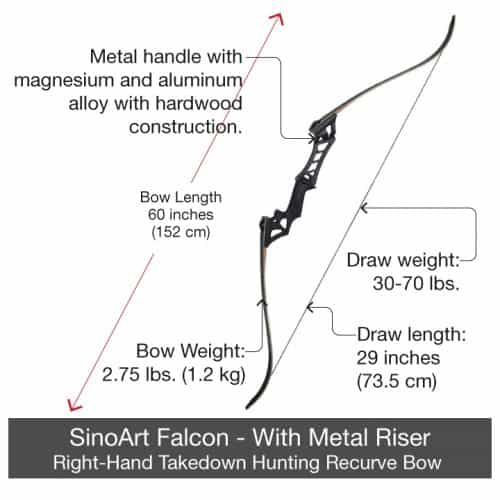 It is a durable piece of equipment, and being a takedown, it is easily portable when disassembled and not being used.
For an archer with experience, it can do a lot because it is more of a traditional bow.  
It is easy to shoot, and due to the quality of the material, the SinoArt Falcon Metal Recurve Bow has considered one of the best hunting recurve bows due to its durability and reliability. 
As hunting is a great source of entertainment, this lightweight recurve bow, manufactured from quality material, makes it easy to use and provides a premium hunting experience. 
The bow comes with an assortment of draw weights, and the takedown bow is easy to transport, making it perfect for both hunting and practice purposes. 
The SinoArt Falcon Takedown Hunting Recurve Bow Metal Riser Right Hand can also be fitted with extra accessories.
One disadvantage we did find, is the arrow rest is not quite as strong as some of the other quality bows we have reviewed.
FEATURES
Bow Length:         60 inches (152 cm)

Draw Length:     29 inches (73.5 cm)

Bow Weight:         2.75 lbs. (1.2 kg)

Draw Weight:        30-70 lbs. (increments of 5 lbs.)

Available in Right Handed orientation only

Aluminum-magnesium alloy riser
PROS
Pleasing Aesthetics

Long-Lasting

Guarantees perfect grips

Built with high-quality component material.

Available in two colors

Bow comes with a selection of draw weights

Affordable, and can be replaced with stronger limbs after purchase
CONS
A bow does not come with accessories
3. Best for Hunting and Target Shooting
As you can see there are several bows out there and most of them cater to specific needs.  
Often, there are recurve bows for large game hunting and target shooting, or that cater to beginners or experienced archers.  In this last section, I will talk about a good bow for each hunting and a good bow for target shooting.
Remember that the models below can be used equally well for either use and as a rule, any hunting recurve should also be convenient for target shooting.
However, the opposite is not applicable, and target bows are often not recommended for hunting. This has to do with the draw weight: a hunting bow must be a minimum of 40#, while target shooting can be set with even a 15# bow, if shooting from a small enough range.
Here is the list of the best recurve bows for hunting and target shooting.
Image
Title
Prime
Buy
Samick Sage Takedown Recurve Bow (30 LB., Right)

Prime

Eligible

Buy Now
Southland Archery Supply SAS Explorer Metal Riser Takedown Recurve Bow (Blue, 30 Lbs.)

Prime

Eligible

Buy Now
Bear Archery Grizzly Recurve Bow Right Hand, 40#

Prime

Buy Now
The wood design that's used in creating the Samick Sage recurve bow is very outstanding and shouts out quality. Even if you're a beginner, this bow will allow you to graduate through the various skill levels up until you're ready for the bull's eye.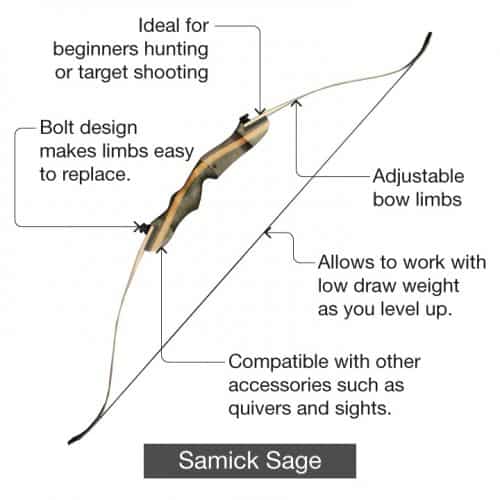 It also comes with attractive features that help you adjust the draw weight. 
The performance is also on another level, due to the build quality. The configuration on this bow is easy to adjust, since it comes in both left and right-hand models. Regardless of the archer's age, there's a Sage for everyone, because the draw weights range between 30-60 pounds.
Check out this video for complete review.
Pros:
It allows you to adjust the bow limbs.

Ideal for beginners, hunting and target shooting.

It's well priced compared to other models.

It allows you to work with low draw weight as you level up.

It comes with a bolt design that's easy to replace.

Elegant and aesthetic design.

Construction is solid.

Comes with a molded grip.

Compatible with accessories such as quivers and sights.
Cons:
Minor control issues.

Finishing issues amongst some buyers.

Some breakages with the limbs.

Ideally, most of these issues are aesthetic in nature. 

Quite big
The design features that make-up the Southland Archery Supply SAS are both durable and elegant, with the limbs being made of fiberglass. Aside from being very durable, fiberglass is ideal for hunting and target shooting. Another added bonus of fiberglass limbs, is that they are very hard to break.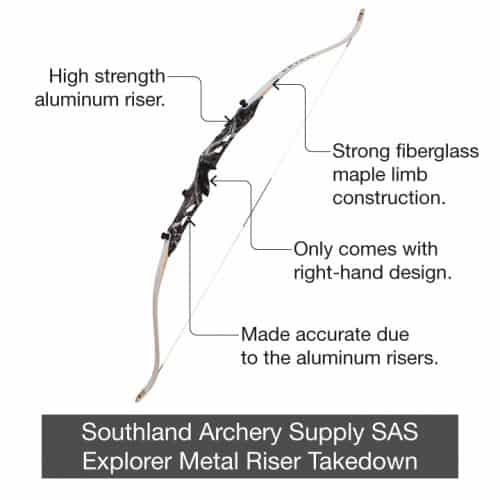 The bow looks very elegant due to the many colors that make up the bow. The design is strong and stylish due to the maple laminations. If you're looking for a well-priced re-curve bow that's strong and durable, you will appreciate the Southland Archery Supply SAS Explorer. 
Although the limbs are made of fiberglass, the riser is made of aluminum, thus adding on to the accuracy of the bow. The only downside is that the bow only comes with the right-hand design. 
Pros
The limbs are made of fiberglass so they're very durable.

The bow is compact and strong.

It's easy to transport and use. 

It's very accurate due to the aluminum risers.
Cons
The bow only comes with the right-hand model. 
Its design hasn't changed in over 5 decades because there hasn't been a need for alteration. It's one of the shorter options you can buy at only 58″, but the reduced stature doesn't cause it to suffer when performance is your objective.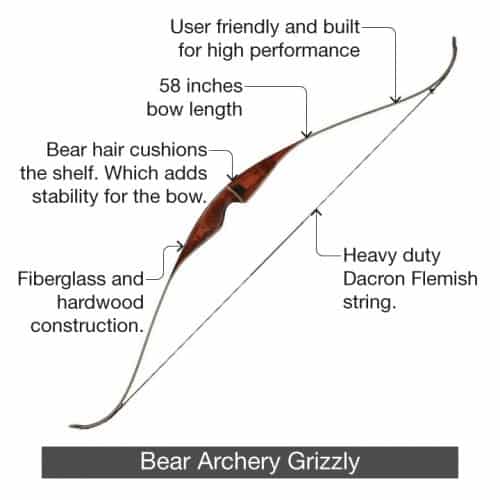 Its design, in terms of size, facilitates mobility and distance shooters. Clearly, as the name suggests, the Bear Archery Grizzly is a powerful bow ideal for hunting. Due to the lower AMO length, it can make the quiet and accurate shots required for hunting.  It is also simpler to carry around the bushes.
Being a one-piece, it is not possible for a takedown, but instead, the Bear Archery Grizzly is a sturdy one-piece design.  The company has been using the same blueprint since 1964. However, the manufacturers developed a production process in 1970 to make "future wood."  This wood is flexible, durable, and amplifies the bow's power for hunting. The bow comes with a three-year warranty.
To make the arrow rest seem and feel classic, it is made of bear hair, while the riser protector is made of leather. 
The Bear Archery Grizzly is looking great- it is perfect if you are a hunter who is into a more traditional bow.
Picking a recurve bow that suits you should not be difficult, as I had mentioned earlier.  There are several considerations to keep in mind. Although there are different brands in the market with a variety of technologies, a normal hunting bow will satisfy the needs of most people.  
Features
The features that come with the Bear Archery Grizzly scream quality. The limbs and risers are specially constructed using fiberglass and hardwood. This brings in the element of shielding coupled with an elegant finish. These two components bring in the element of durability.
The specially designed Dacron Flemish string is durable since its made for heavy-duty with a long-lasting material. 
The unique design constitutes some bear hair that cushions the shelf. It also adds on to the stability of the bow. 
PROS
It's well priced

Drawing the bow is very easy due to its smooth nature.

The bow is very comfortable while being used.

The design is very elegant and beautiful.

It comes with a durable string. 

The bow performs very efficiently. 
CONS
It's not ideal for beginners.

Minor issues with the grip.
Frequently Asked Questions(FAQs)
Which is the best recurve bow?
Our top picks for the recurve bows:
Why are recurve bows better?
The number-three curve in recurve bows allows them to shoot faster and more powerfully than other bows because it makes them more compact.
How far can a recurve bow shoot accurately?
The recurve bow's effective range for target shooting is between 60 and 100 yards. Depending on the draw weight of the recurve bow and the archer's skill, the effective range of a recurve bow for hunting is between 20 and 40 yards.
CONCLUSION
Learning the craft of archery can be fun.  However, patience and skill are necessary for success. To become competent when using a bow, one has to go through considerable practice to learn to hunt using a bow. 
The above list takes an in-depth look at some of the bows that are available today in the marketplace. The list looks at three categories of recurve bows: best for beginners, best for advanced archers, and best for hunting and target shooting.
In the very beginning, we pointed out that the most important thing to have in mind is your personal needs and the purpose for which you'll be using the bow. If all these factors are taken into consideration, you'll be in a better position to make an informed decision regarding the best recurve bow that's likely to suit your needs. 
We've also outlined the crucial factors to consider while getting a recurve bow, so take that into account.  However, it's also important to mention that maintenance comes in handy. Just like any piece of equipment, you need to maintain it in great condition for it to deliver to your expectations.