[Updated 1 August 2022] Bow quivers are an essential accessory for those who like to hunt. They allow you to carry your bow conveniently and securely without the worry of losing it. This is the ultimate guide to bow quivers. We have compiled all of the information you need to know about these popular hunting accessories into one place!
The materials and construction, how they attach to your body, what type of archery equipment they work with, and more are all covered in this article.
Types of Quiver
Back Quivers
The most common type of quiver is the back quiver, which is the one you are most likely familiar with—seen in many movies and television shows. Typically made of leather, a back quiver provides a strap that holds the quiver on your back and straps across your chest. The drawback to this design is that you have to reach up and backward when pulling out the arrow. However, newer models are available that allow you to pull arrows down from your quiver. The main downside is that to extract an arrow from the quiver; you'll need to make many movements, which could be less ideal in hunting situations. This type of bow quivers can be worn on either side of the body, meaning they work well for both left-handed and right-handed archers.
There are various types of back quivers; the most lightweight is the pocket quivers. This model of quiver is something you put in your pocket. The benefit of a pocket quiver is, of course, the ease of portability. One downside of this quiver is that you must reach up to pull the arrow from the quiver for use. Belt quivers are also challenging to maneuver when you're trying to move through a thick brush. Alternatively, A field quiver points your arrows behind you, and a target quiver suggests the contained arrows in front of you.
Bow Quivers
This type of quiver attaches to the bow, and it is a popular option for archers who are using compound bows. Some recurve bow users may prefer to use a bow quiver, but it is not recommended for anyone using a longbow. The main advantage of a bow quiver is that the arrows are always close to the archer's hands and within reach. Thus, this type of quiver is best for the archer, who anticipates making multiple shots quickly and quietly. One of the significant drawbacks of a bow quiver is that it can only hold up to six arrows. This means you have to either be willing to reuse the arrows you shoot in practice sessions or carry an extra quiver with spare arrows. A bow quiver is less ideal for a novice archer as it adds weight to the bow and makes aiming more difficult.
Ground
 Quivers
This type of bow quiver does not attach to your body and must be placed on the ground in order to work. The manufacturer will put a hook on the bottom of the ground quiver so it can be toted around by connecting it to the bow. This kind of quiver is best for practicing archery or competing, as it will remain stationary, and the archer doesn't have to carry it around.
Hip
 Quivers
Hip quivers are easy to carry because they take up minimal space and weigh the least. It is also called belt quiver or side quiver. Hip quivers attach to your hip or side, and you tie the quiver to your belt for easy transport. In some cases, manufacturers design quivers with hooks so they can be attached to your belt or pants. Additionally, these bow quivers possess leg straps so the quiver can be secured to the archer's body.
Tube Quivers
If you care about your arrows and often shoot expensive ones, it might be worth getting a tube quiver. This type of quiver allows the store many arrows in separate compartments. The number of compartments varies depending on the size of the quiver and ranges from 3, 5, or more tubes. This protects arrows from getting damaged or impeding your shots. The close proximity of arrows in a quiver can often lead to one or more getting damaged by the others when knocking together.
Tube quivers can also separate your arrows into known groups. If you're concentrating and in the shooting zone with plenty of arrows left, you'll be able to tell how many are left by counting all those empty tubes. If your bow quiver doesn't come with tubes, purchase dividers to fit inside the quiver.
Additional Features to Consider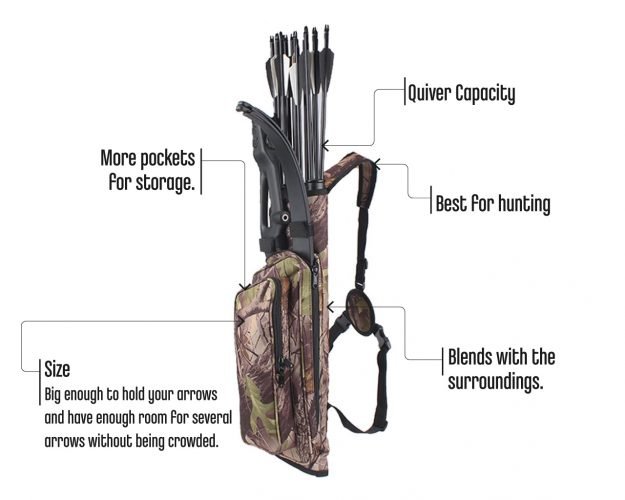 If you have a lot of archery/hunting accessories, it might be helpful to find a quiver that has one or more pockets for storage. You can store small items in the pockets like string wax, a range finder, extra arrowheads, bow releases, and more.

When shopping for a quiver, you need to consider its size. It has to be big enough to hold your arrows and have enough room for several arrows without being crowded. Most quivers can hold five or six arrows, but some have room for up to ten. You need to consider where you will use your bow and arrow before deciding which type of quiver. Depending on your bow quiver needs and style preferences, you may need to determine which type of quiver suits you best.

Some bow quivers come with lids, which can be a perfect solution for hunters who have to keep their arrows dry and protected from the outdoor elements. Some hunting quivers are made using a camo pattern to blend in with the surrounding natural environment.
How do bow quivers affect accuracy?
The most important idea is that your bow should be as close to the balance it was designed with as possible. Adding weight and other components will have a negative effect on this natural balance. A quiver, which carries arrows for the bow, may consist of more components that come loose and vibrate. However, the weight is largely dependent on how many arrows are contained within it. Saying that these differences will be slight if you're skilled in shooting with your quiver on your bow.
Quiver Capacity
Bow quivers nowadays are usually limited to 3, 4, 5, or 6 arrows. The more arrows you have on your bow quiver, the heavier it will be. Fewer arrows are generally better because hunting arrows can weigh a lot.
Traditional hip and back quivers can carry as many arrows as you like. This really depends on the diameter of your arrow and whether or not you'd like for them to clatter around together. Most hip and back quivers can hold 12-24 arrows comfortably.
Which is the best for hunting?
A good bow quiver can be a hunter's best friend. Choose one that fits your needs. If you are using mechanical broadheads, ensure that there are at least 2 contact points with the arrow shaft. If not, one point will suffice. Lightweight bow quivers reduce the weight of your bow. If you're shooting from a tree stand or blind, consider a detachable quiver instead of a standard one.
Traditional and Recurve Bow Quivers
Recurve bow hunters require their own type of quiver. Recurve bows typically come with sight mounting holes for more complex use. Use these holes to mount the same types of quiver and sights as a compound bow.
Cosplay or Costume Quivers
Traditional back or hip quivers made with suede and leather make excellent additions to any cosplay outfit.
Here is the list of Best Quivers
Image
Title
Prime
Buy
Trophy Ridge Hex Light 5 Arrow Quiver Black ,One Size

Prime

Buy Now
Kwikee Kwiver Kwik 3 SS 3 Arrow Bow Quiver for Archery and Hunting - Quick Detach, Lightweight, Black

Prime

Eligible

Buy Now
Limbsaver Silent Quiver One Piece Infinity, Mossy Oak Breakup Camo

Prime

Eligible

Buy Now
Tightspot Quiver Rise 5 Arrow Left Hand Black Quiver

Prime

Buy Now
October Mountain Products No-Spill Hip & Back Tube Quiver (RH/LH - Camo)

Prime

Buy Now
Recommendations Quivers
Trophy Ridge is back again with its very well-priced range of archery equipment. This quiver can fit five arrows, which is helpful since most hunters will bring a spare or two when hunting. It also comes with an LED light system that'll be helpful in low light and dusk. They also have Ballistix, an acoustic and vibration-absorbing material that helps keep your shot straight even with the quiver attached.
This model is great for hunters because it has 2 arrow grippers. That means mechanical broadheads can be gripped instead of being just embedded in the hood (which may cause them to deploy).
The bracket can be adjusted to fit on your bow a few inches higher or a couple of feet lower, so it's just right for you. It also comes with its own quick detach mechanism, so you don't have to unscrew any bolts if you want the quiver off your bow in a hurry. If you want to shoot on-bow but want quick access to your arrows, this quiver is still there for you. Just detach it from the bow and have a heavy-duty braided loop on hand so you can hang it in any location.
Check out this video for complete review.
Pros:
Quick detach capability

LED light system

2 arrow grippers

The ballistic coating is designed to provide a color-enhanced, protective barrier against scratches and nicks.

Camo or black
Cons:
A little bit heavy compared to others
The Bow Quiver is made out of a shatter-proof polymer that can withstand bumps and scrapes on hunting trips. The quiver will hold up even in the event of an accident, like dropping it in the stand. Kwikee Kwiver offers a lifetime warranty for their products.
With a dual rubber gripper, it securely holds your arrows in place during bow hunting. This bow quiver is also great because it prevents your broadheads from coming in contact with the cover. This prevents them from dulling or accidentally releasing. The cover itself is spacious and lined with rubber to further avoid dulling.
Kwikee Kwiver does have a slight downside to their new double-gripper design as it takes longer to retrieve an arrow than from previous models with only one gripper.
This bow quiver is lightweight and durable. It also comes in five different camo designs, so you can match it to your environment. It's an excellent choice for serious bowhunters who are often planning serious hunting trips.
Pros:
Durable shatter-proof polymer

Lifetime warranty

Double rubber grippers

Lightweight

5 camo designs
Cons:
LimbSaver uses its NAVCOM material everywhere. It is a savvy invention. A material that absorbs vibration up to the 10k-30k Hz frequency range and has been used in applications from sports equipment to aerospace. This quiver has dual grippers, and added it to the hood. The two features of this quiver make it a good option for people who want to go undetected while hunting.
This bow quiver is available in a variety of colors, including options to match each and every bow setup you may have.
Pros:
Color choices

Quiet

Dual gripper
Cons:
Without any hanging brackets and detaches without the need for a cord

Arrow grippers do not work with all arrows
This is designed to attach tightly to the body of your bow. All adjustments are made within this quiver, which can be moved in or out, up and down, as well as towards and away from you. The perfect position for retrieval can be found!
The hood features an insert that is tailored to only contact the tip of the broadhead, allowing excellent accuracy for mechanicals. We did not test this, but the hood is so durable that you can recklessly drive over with your truck, and it will still protect your broadheads. The hood is deep enough that even larger items will not be exposed to the elements when you're outside. If anything does come loose while you are on your way, the lipped edge prevents it from making noise.
TightSpot bows are some of the most durable on the market, so don't worry about breaking them. This Bow quivers typically come at a price, but we feel it's worth the peace of mind.
Check out this video for complete review.
Pros:
Lightweight

Tight fitment and ability to be infinitely adjustable

Arrow grippers can be adjusted to fit the length of your bow's limbs.

Quiet

Lots of color choices

Durable

Ironclad guarantee
Cons:
Expensive

Hand specific, for left or right-handed bows
A trendy and affordable side or hip quiver. They are available in 4 colors, one of which is camo. The clip is designed to attach these quivers to your pants, so you don't have to worry about straps getting in your way. You don't need to wear a belt with this, as it gets its name of "No-Spill" from the quiver's ability to stand up and not spill arrows when worn on the belt.
Pros:
Low-cost

No-spill of an arrow when you bend down

Either Left or right side usable
Cons:
Can not wear on the back

Not designed to hold broadheads
Conclusion
Most styles of archery come with their own needs. Competitive, leisure/practice and hunting are all different types of archery with different needs. For this reason, there's a quiver perfect for every style–be it competitive, leisure/practice-focused, or hunting-oriented. There are many diverse quiver models, including backpacks, belt quivers, and ground quivers. Find a durable model that will carry your arrows and arrowheads to your selected spot for archery. If you're considering purchasing a bow quiver, keep in mind that your needs might vary from other people's. When purchasing a bow quiver, it is essential to consider how much noise the unit makes, its appearance and whether you can afford it. Many major quiver brands are available at competitive pricing.
Frequently Asked Questions(FAQs)
Ques: What is a quiver for a bow?
Ans: A quiver is a container for keeping arrows. Depending on the shooting and the archer's preference, it might be carried on the archer's body or the ground.
Ques: What is the best bow quiver?
Ans: Our top picks for the best bow quivers:
Ques: How many arrows are in a quiver?
Ans: A single quiver can contain up to a hundred arrows, depending on the number of quivers carried, the size of the arrows, and how they were held. In general, a single quiver can accommodate around 25-30 arrows, while an archer may carry up to 50 arrows.