[Updated 1 June 2023] Bow quivers are an essential accessory for those who like to hunt. They allow you to carry your bow conveniently and securely without the worry of losing it. This is the ultimate guide to bow quivers. We have compiled all of the information you need to know about these popular hunting accessories into one place!
The materials and construction, how they attach to your body, what type of archery equipment they work with, and more are all covered in this article.
Types of Quiver
Back Quivers
The most common type of quiver is the back quiver, which is the one you are most likely familiar with—seen in many movies and television shows. Typically made of leather, a back quiver provides a strap that holds the quiver on your back and straps across your chest. The drawback to this design is that you have to reach up and backward when pulling out the arrow. However, newer models are available that allow you to pull arrows down from your quiver. The main downside is that to extract an arrow from the quiver; you'll need to make many movements, which could be less ideal in hunting situations. This type of bow quivers can be worn on either side of the body, meaning they work well for both left-handed and right-handed archers.
There are various types of back quivers; the most lightweight is the pocket quivers. This model of quiver is something you put in your pocket. The benefit of a pocket quiver is, of course, the ease of portability. One downside of this quiver is that you must reach up to pull the arrow from the quiver for use. Belt quivers are also challenging to maneuver when you're trying to move through a thick brush. Alternatively, A field quiver points your arrows behind you, and a target quiver suggests the contained arrows in front of you.
Bow Quivers
This type of quiver attaches to the bow, and it is a popular option for archers who are using compound bows. Some recurve bow users may prefer to use a bow quiver, but it is not recommended for anyone using a longbow. The main advantage of a bow quiver is that the arrows are always close to the archer's hands and within reach. Thus, this type of quiver is best for the archer, who anticipates making multiple shots quickly and quietly. One of the significant drawbacks of a bow quiver is that it can only hold up to six arrows. This means you have to either be willing to reuse the arrows you shoot in practice sessions or carry an extra quiver with spare arrows. A bow quiver is less ideal for a novice archer as it adds weight to the bow and makes aiming more difficult.
Ground
 Quivers
This type of bow quiver does not attach to your body and must be placed on the ground in order to work. The manufacturer will put a hook on the bottom of the ground quiver so it can be toted around by connecting it to the bow. This kind of quiver is best for practicing archery or competing, as it will remain stationary, and the archer doesn't have to carry it around.
Hip
 Quivers
Hip quivers are easy to carry because they take up minimal space and weigh the least. It is also called belt quiver or side quiver. Hip quivers attach to your hip or side, and you tie the quiver to your belt for easy transport. In some cases, manufacturers design quivers with hooks so they can be attached to your belt or pants. Additionally, these bow quivers possess leg straps so the quiver can be secured to the archer's body.
Tube Quivers
If you care about your arrows and often shoot expensive ones, it might be worth getting a tube quiver. This type of quiver allows the store many arrows in separate compartments. The number of compartments varies depending on the size of the quiver and ranges from 3, 5, or more tubes. This protects arrows from getting damaged or impeding your shots. The close proximity of arrows in a quiver can often lead to one or more getting damaged by the others when knocking together.
Tube quivers can also separate your arrows into known groups. If you're concentrating and in the shooting zone with plenty of arrows left, you'll be able to tell how many are left by counting all those empty tubes. If your bow quiver doesn't come with tubes, purchase dividers to fit inside the quiver.
Additional Features to Consider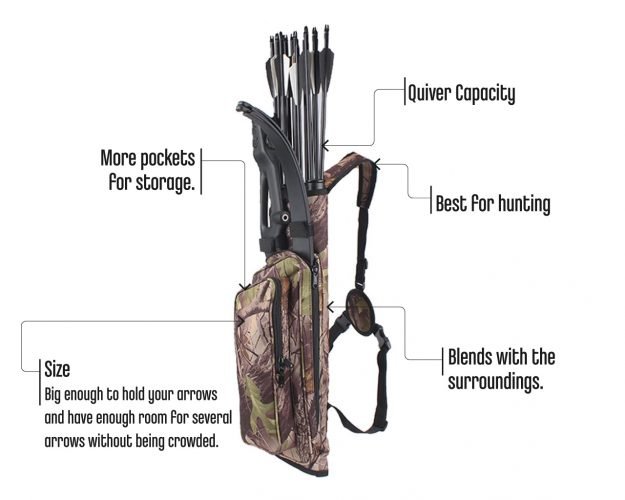 If you have a lot of archery/hunting accessories, it might be helpful to find a quiver that has one or more pockets for storage. You can store small items in the pockets like string wax, a range finder, extra arrowheads, bow releases, and more.

When shopping for a quiver, you need to consider its size. It has to be big enough to hold your arrows and have enough room for several arrows without being crowded. Most quivers can hold five or six arrows, but some have room for up to ten. You need to consider where you will use your bow and arrow before deciding which type of quiver. Depending on your bow quiver needs and style preferences, you may need to determine which type of quiver suits you best.

Some bow quivers come with lids, which can be a perfect solution for hunters who have to keep their arrows dry and protected from the outdoor elements. Some hunting quivers are made using a camo pattern to blend in with the surrounding natural environment.
How do bow quivers affect accuracy?
The most important idea is that your bow should be as close to the balance it was designed with as possible. Adding weight and other components will have a negative effect on this natural balance. A quiver, which carries arrows for the bow, may consist of more components that come loose and vibrate. However, the weight is largely dependent on how many arrows are contained within it. Saying that these differences will be slight if you're skilled in shooting with your quiver on your bow.
Quiver Capacity
Bow quivers nowadays are usually limited to 3, 4, 5, or 6 arrows. The more arrows you have on your bow quiver, the heavier it will be. Fewer arrows are generally better because hunting arrows can weigh a lot.
Traditional hip and back quivers can carry as many arrows as you like. This really depends on the diameter of your arrow and whether or not you'd like for them to clatter around together. Most hip and back quivers can hold 12-24 arrows comfortably.
Which is the best for hunting?
A good bow quiver can be a hunter's best friend. Choose one that fits your needs. If you are using mechanical broadheads, ensure that there are at least 2 contact points with the arrow shaft. If not, one point will suffice. Lightweight bow quivers reduce the weight of your bow. If you're shooting from a tree stand or blind, consider a detachable quiver instead of a standard one.
Traditional and Recurve Bow Quivers
Recurve bow hunters require their own type of quiver. Recurve bows typically come with sight mounting holes for more complex use. Use these holes to mount the same types of quiver and sights as a compound bow.
Cosplay or Costume Quivers
Traditional back or hip quivers made with suede and leather make excellent additions to any cosplay outfit.
Here is the list of Best Quivers
Image
Title
Prime
Buy
Trophy Ridge Hex Light 5 Arrow Quiver Black ,One Size

Prime

Buy Now
Kwikee Kwiver Kwik 3 SS 3 Arrow Bow Quiver for Archery and Hunting - Quick Detach, Lightweight, Black

Prime

Eligible

Buy Now
Limbsaver Silent Quiver One Piece Infinity, Mossy Oak Breakup Camo

Prime

Eligible

Buy Now
Tightspot Quiver Rise 5 Arrow Left Hand Black Quiver

Prime

Buy Now
October Mountain Products No-Spill Hip & Back Tube Quiver (RH/LH - Camo)

Prime

Buy Now
Recommendations Quivers
Trophy Ridge Hex Light 5 Arrow Quiver Black ,One Size
Built-in LED lights illuminate arrows and surroundings in low light

Soft-touch hood construction reduces vibration and eliminates noise

Features quick attachment design for fast and easy mounting and detachment

Adjustable mounting offers low profile against the bow and arrow containment within the bow

Customizable single or dual arrow grippers and precision-designed hood inclu
The Trophy Ridge is back again with its very well-priced range of archery equipment. This quiver can fit five arrows, which is helpful since most hunters will bring a spare or two when hunting. It also comes with an LED light system that'll be helpful in low light and dusk. They also have Ballistix, an acoustic and vibration-absorbing material that helps keep your shot straight even with the quiver attached.
This model is great for hunters because it has 2 arrow grippers. That means mechanical broadheads can be gripped instead of being just embedded in the hood (which may cause them to deploy).
The bracket can be adjusted to fit on your bow a few inches higher or a couple of feet lower, so it's just right for you. It also comes with its own quick detach mechanism, so you don't have to unscrew any bolts if you want the quiver off your bow in a hurry. If you want to shoot on-bow but want quick access to your arrows, this quiver is still there for you. Just detach it from the bow and have a heavy-duty braided loop on hand so you can hang it in any location.
Check out this video for complete review.
Features
Capacity- The quiver can hold up to 5 arrows, allowing you to carry multiple arrows easily.
Hex Light Technology- It features Hex Light Technology, which provides illumination to help you locate your arrows in low-light conditions. This is particularly useful during early morning or late evening hunts.
Lightweight- The quiver is constructed using lightweight materials, making it comfortable to carry and reducing additional weight on your bow.
Durable Construction- The quiver is made of high-quality materials, ensuring its durability and longevity even in rugged outdoor environments.
Quick Detach System- A quick detach system allows easy attachment and removal from your bow, providing convenience during hunting or target shooting sessions.
Adjustable Mounting Bracket- With the flexible mounting bracket, you can adjust the position of the quiver to suit your shooting style and preferences.
Sleek Design- The quiver's black color and sleek design give it an aesthetic appeal, adding a stylish touch to your archery equipment.
Pros
Enhanced Visibility- The Hex Light Technology improves visibility in low-light conditions, making it easier to locate your arrows and ensuring a better shooting experience.
Easy to Use- The quick detach system and adjustable mounting bracket make it easy to attach, separate, and adjust the quiver, providing convenience and flexibility.
Lightweight and Comfortable- The lightweight construction reduces fatigue and discomfort during extended shooting sessions.
Durable and Long-Lasting- The quiver is made of high-quality materials that allow it to endure tough outdoor conditions, making it a stable investment.
Versatile- The quiver is suitable for hunting and target shooting, making it a versatile accessory for archery enthusiasts.
Cons
Limited Arrow Capacity- The quiver can only hold up to 5 arrows, which may not be sufficient for some archers who prefer to carry more arrows.
Limited Color Options- The quiver is available only in black, which may not suit everyone's style preferences.
Additional Weight on the Bow- While the quiver is lightweight, it still adds some weight to the bow, affecting some archers' balance and overall feels.
Overall, the Trophy Ridge Hex Light 5 Arrow Quiver Black offers enhanced visibility, convenience, and durability, making it an excellent choice for archery enthusiasts who prioritize these features. However, the limited arrow capacity, color options, and additional weight on the bow may be considerations for some users.
The Bow Quiver is made out of a shatter-proof polymer that can withstand bumps and scrapes on hunting trips. The quiver will hold up even in the event of an accident, like dropping it in the stand. Kwikee Kwiver offers a lifetime warranty for their products.
With a dual rubber gripper, it securely holds your arrows in place during bow hunting. This bow quiver is also great because it prevents your broadheads from coming in contact with the cover. This prevents them from dulling or accidentally releasing. The cover itself is spacious and lined with rubber to further avoid dulling.
Kwikee Kwiver does have a slight downside to their new double-gripper design as it takes longer to retrieve an arrow than from previous models with only one gripper.
This bow quiver is lightweight and durable. It also comes in five different camo designs, so you can match it to your environment. It's an excellent choice for serious bowhunters who are often planning serious hunting trips.
Features
Lightweight Design- The Kwikee Kwiver – Kwik 3 SS uses lightweight materials, making it more convenient to carry and lessening your bow setup's overall weight.
Quick Detach System- The quiver features a quick detach system, allowing you to easily attach or disconnect it from your bow without needing tools or additional equipment.
Secure Arrow Holding- The quiver securely holds up to three arrows, keeping them in place during transportation and preventing them from falling out or getting damaged.
Durable Construction- The Kwik 3 SS is built to withstand the rigors of archery and hunting. The product is constructed with high-quality materials intended to be sturdy and have a long lifespan.
Versatile Mounting Options- For the convenience of both right- and left-handed archers, the quiver can be positioned on either side of the bow.
Silent Attachment- The quiver is designed to attach to your bow silently, ensuring you won't make any noise or a nearby alert game when attaching or detaching the quiver.
Camouflage Options- The Kwik 3 SS is available in various camouflage patterns, allowing you to choose one that matches your hunting environment and helps you stay concealed.
Pros
Convenient and Easy to Use- The quick detach system and lightweight design make the quiver convenient, especially when removing or attaching arrows quickly.
Secure Arrow Storage- With its secure arrow-holding mechanism, the quiver ensures that your arrows are safely stored and protected from damage during transportation.
Durable and Long-lasting- The quiver's durable construction and high-quality materials make it a reliable choice that can withstand the demands of archery and hunting over an extended period.
Silent Attachment- The mute attachment feature of the quiver is advantageous in hunting scenarios, as it helps you maintain stealth and minimize noise that could startle or alert the game.
Versatile Mounting Options- Both right-handed and left-handed archers can use the quiver because it can be mounted on either side of the bow, making it accessible to all users.
Camouflage Options- You can choose from various camouflage patterns to match your hunting surroundings, helping you blend in better and improve your concealment.
Cons
Limited Arrow Capacity- The quiver can only hold up to three arrows, which may not be sufficient for some archers or hunters who require a larger ammunition capacity.
Lack of Additional Features- The Kwik 3 SS does not have extra compartments or pockets for storing accessories like broadheads, releases, or other small items you may want to carry along.
Compatibility- It is essential to ensure the quiver is compatible with your specific bow model before purchasing, as certain bow designs may not be suitable for this quiver's mounting system.
Price- Depending on your budget, the price of the Kwik 3 SS may be considered higher compared to other quivers available in the market with similar features.
Limited Color Options- While the quiver offers camouflage patterns, it may not cater to individuals who prefer other color options or a more customizable appearance.
Limbsaver Silent Quiver One Piece Infinity, Mossy Oak Breakup Camo
Five-arrow Quiver with innovative low profile and lightweight design, great for Bow hunting

Grippers made from LimbSavers proprietary vibration- and noise-dampening noncom technology

Universal design fits both fixed and expandable Broad heads, as well as wide spectrum of shaft sizes

Quick disconnect System Operated by an easy-to-access thumb Release, positionable shaft gripper

Durably built to be used outdoors in harsh environments

Navcom hood

Fits all arrow sizes

HD Camo Pattern

Quick detach

Universal design fits both fixed and expandable broad he
The LimbSaver uses its NAVCOM material everywhere. It is a savvy invention. A material that absorbs vibration up to the 10k-30k Hz frequency range and has been used in applications from sports equipment to aerospace. This quiver has dual grippers, and added it to the hood. The two features of this quiver make it a good option for people who want to go undetected while hunting.
This bow quiver is available in a variety of colors, including options to match each and every bow setup you may have.
Features
Noise Reduction- The LimbSaver Silent Quiver is precisely engineered to reduce noise and vibration during bow hunting. It uses NAVCOM (Noise and Vibration Control Material) technology to dampen any noise caused by arrows rattling against each other or the quiver, allowing for stealthier hunting.
Lightweight and Compact- The quiver is easy to carry and maneuver in the field because it is lightweight and compact. It doesn't add much weight to your bow setup, ensuring it won't affect your shooting accuracy or balance.
Secure Arrow Holding- The LimbSaver Silent Quiver securely holds arrows, keeping them in place and preventing accidental dislodging during movement. It typically features a gripper system firmly grasping the arrows, ensuring they stay put even when traversing rugged terrains.
Quick and Easy Attachment- The quiver is designed for easy attachment and detachment, allowing archers to swiftly remove or install it on their bow without much hassle. This convenience is beneficial when transitioning between hunting setups or removing the quiver to shoot.
Pros
Noise Reduction- The primary advantage of the LimbSaver Silent Quiver is its ability to minimize noise caused by arrow movement. This makes it ideal for hunters who prioritize stealth and want to avoid spooking game animals.
Improved Stability- Keeping the arrows secured helps the quiver maintain the bow's balance and stability during movement. This ensures a consistent shooting experience and minimizes unwanted disruptions to the archer's aim.
Versatility- The LimbSaver Silent Quiver is often designed to be adjustable, accommodating various arrow lengths and diameters. This versatility allows archers to use different arrow types and sizes without needing multiple quivers.
Cons
Limited Arrow Capacity- Some versions of the LimbSaver Silent Quiver have a limited arrow capacity, typically holding a maximum of five or six arrows. This may be a drawback for hunters who prefer carrying a more significant number of indicators for extended hunting sessions.
Compatibility- While the quiver is designed to be compatible with most modern compound bows and some recurve bows, it may not fit certain older or specialized bow models. It is crucial to ensure compatibility before purchasing to avoid any compatibility issues.
Bulkiness- Although the LimbSaver Silent Quiver is compact compared to other quivers, it still adds bulk to the bow setup. Archers who prefer a minimalistic, streamlined hunting experience might find it could be more manageable.
In conclusion, the LimbSaver Silent Quiver offers noise reduction, secure arrow holding, and easy attachment, providing archers with a stealthier and more convenient bow-hunting experience. However, it's essential to consider factors such as arrow capacity, compatibility, and the added bulk it introduces to the bow setup when evaluating whether it suits your individual preferences and hunting style.
Tightspot Quiver Hunting Shooting Archery Lightweight Compact Rise 5 Arrow Quiver, Black, Left Hand
GEARED TOWARD THE TREESTAND HUNTER - Quick Draw arrow system puts your arrow close at hand for a second shot, super quiet performance - ideal for close-in shots

RISE QUIVER - The RISE comes with a loop on the hood to easily hang the quiver in the tree and is four inches shorter than the original, which makes for a more compact and maneuverable design

SECONDARY GRIPPER - This gripper is attached to the carbon rods near the hood and allows the user to secure their arrow in two places while the tip of the arrow is covered inside the hood

TIGHT AND LIGHT - The Rise quiver holds arrows tight, eliminating lost or dropped arrows. The quiver is so light that you wonâ€t even notice it is on your bow

RIGHTSPOT ADJUSTMENT SYSTEM - This system lets you move the quiver in tight to your bow, virtually eliminating accuracy-robbing bow torq
This is designed to attach tightly to the body of your bow. All adjustments are made within this quiver, which can be moved in or out, up and down, as well as towards and away from you. The perfect position for retrieval can be found!
The hood features an insert that is tailored to only contact the tip of the broadhead, allowing excellent accuracy for mechanicals. We did not test this, but the hood is so durable that you can recklessly drive over with your truck, and it will still protect your broadheads. The hood is deep enough that even larger items will not be exposed to the elements when you're outside. If anything does come loose while you are on your way, the lipped edge prevents it from making noise.
TightSpot bows are some of the most durable on the market, so don't worry about breaking them. This Bow quivers typically come at a price, but we feel it's worth the peace of mind.
Check out this video for complete review.
Features
Lightweight Design- The Tightspot Quivers Hunting Shooting Archery Lightweight is designed to be light, reducing the overall weight burden on the archer during hunting or shooting activities.
Adjustable Mounting- This quiver features a flexible mounting system, allowing you to position the quiver in the most comfortable and convenient spot on your bow. This flexibility ensures optimal balance and ease of access to your arrows.
Secure Arrow Gripping- The quiver incorporates a unique arrow gripper design that securely holds arrows in place, preventing any unwanted noise or movement that could disrupt your shot accuracy.
Quick Detach System- The quiver has a quick detach mechanism, making it easy to attach or remove the quiver from your bow. This feature enhances convenience and facilitates swift adjustments while in the field.
Durable Construction- The Tightspot Quivers Hunting Shooting Archery Lightweight uses high-quality materials, ensuring durability and long-lasting performance even in rugged hunting conditions.
Pros
Enhanced Maneuverability- The lightweight design of this quiver minimizes the weight added to your bow, allowing for improved maneuverability and reduced fatigue during extended hunting or shooting sessions.
Improved Balance- With the adjustable mounting system, you can position the quiver to achieve optimal balance on your bow, enhancing stability and shot consistency.
Noise Reduction- The secure arrow gripper design keeps your arrows in place and reduces noise generated from arrow movement. This feature is crucial for maintaining stealth during hunting and preventing alerting nearby games.
Easy Access and Adjustment- The quick detach system enables fast and effortless attachment or removal of the quiver, ensuring easy access to arrows and facilitating adjustments on the go.
Longevity- The quiver is constructed to be durable and can withstand the demands of hunting and shooting, making it a wise investment as it will last a long time.
Cons
Cost- The Tightspot Quivers Hunting Shooting Archery Lightweight may be more expensive than other quivers available. This could be a potential drawback for budget-conscious archers.
Limited Arrow Capacity- While the quiver provides a secure and convenient storage solution, it typically has a limited arrow capacity compared to larger quivers. This may require more frequent arrow retrieval or restocking during longer shooting sessions.
Bow Compatibility- Although the quiver is designed to fit most standard bows, there may be compatibility issues with specific bow models. It is advisable to ensure compatibility with your particular bow before purchasing.
Bulkiness- While the quiver is lightweight compared to many others, it still adds some bulk to the bow. This may be fine for most archers, but those who prefer an ultra-compact setup may find it more manageable.
Limited Customization Options- The Tightspot Quivers Hunting Shooting Archery Lightweight may have limited options for customization in terms of color or design variations. This could be a drawback for archers who prioritize personalization.
A trendy and affordable side or hip quiver. They are available in 4 colors, one of which is camo. The clip is designed to attach these quivers to your pants, so you don't have to worry about straps getting in your way. You don't need to wear a belt with this, as it gets its name of "No-Spill" from the quiver's ability to stand up and not spill arrows when worn on the belt.
Check out this video for complete review.
Features
No-Spill Design- The quiver features a unique design that prevents arrows from falling out, even when the quiver is tipped or turned upside down. This ensures that your arrows are securely held during transportation or an archery session.
Hip & Back Compatibility- Archers can wear the quiver on their hip or back for flexibility and comfort, as it is designed for both options. The product features adjustable straps that can be tailored to your preferred fit.
Lightweight and Durable- The quiver uses lightweight yet durable materials, making it easy to carry without adding unnecessary weight. The materials used are designed to endure the challenges of outdoor activities, which assures sustained performance over time.
Ample Storage Capacity- It offers much space for arrows, accommodating multiple arrows of varying lengths. This allows you to carry enough arrows for an extended archery session without frequent refills.
Quick Access- The quiver features a quick-access design that enables archers to retrieve or replace arrows during a shoot easily. This ensures smooth and uninterrupted shooting sessions without fumbling or wasting time searching for arrows.
Weather-resistant- The quiver is designed to withstand various weather conditions, including rain and humidity. It helps protect your arrows from moisture, ensuring they remain dry and in optimal condition for accurate shooting
Pros
Secure Arrow Storage- The no-spill design guarantees that your arrows will remain securely held, minimizing the risk of losing or damaging them during transport or movement.
Versatile Wearing Options- The quiver is designed to be hip and back compatible, providing flexibility and comfort. It allows you to carry your arrows most conveniently and comfortably possible.
Easy Access to Arrows- The quick-access design ensures that your arrows are readily accessible, enabling a smooth shooting experience without interruptions or delays.
Lightweight and Durable- The use of lightweight yet durable materials makes the quiver easy to carry and ensures it can withstand the demands of outdoor activities.
Ample Storage Capacity- With its generous storage space, the quiver allows you to carry an adequate number of arrows for extended shooting sessions, eliminating frequent refills.
Weather-resistant- The quiver's ability to resist weather conditions helps protect your arrows from moisture, ensuring their performance and longevity.
Cons
Limited Arrow Capacity- The quiver may have a maximum arrow capacity depending on the specific model. If you require a more significant number of arrows, consider alternative quiver options.
Style Preference- The design and appearance of the quiver may not appeal to everyone's aesthetic preferences. It's always recommended to choose a quiver that aligns with your style.
Fit and Adjustability- While the quiver has adjustable straps, the fit may only suit some. It's essential to ensure the quiver can be securely and comfortably worn on your hip or back before purchasing.
Overall, the October Mountain Products No-Spill Hip & Back Tube Quiver offers a secure, convenient, and versatile option for archers. Its no-spill design, lightweight construction, and ample storage capacity make it a practical choice for archery enthusiasts seeking a reliable quiver.
Frequently Asked Questions(FAQs)
Q1. What is a quiver for a bow?
A quiver is a container for keeping arrows. Depending on the shooting and the archer's preference, it might be carried on the archer's body or the ground.
Q2. What is the best bow quiver?
Our top picks for the best bow quivers:
Q3.  How many arrows are in a quiver?
A single quiver can contain up to a hundred arrows, depending on the number of quivers carried, the size of the arrows, and how they were held. In general, a single quiver can accommodate around 25-30 arrows, while an archer may carry up to 50 arrows.
Q4. Why should I use a bow quiver?
Using a bow quiver offers several advantages:
Archers can shoot quickly and efficiently without searching for arrows in separate containers, thanks to this feature's quick and easy access.
A bow quiver helps distribute the weight of the arrows evenly on the bow, maintaining balance and stability.
This feature reduces the gear an archer needs to bring by eliminating the need for a separate quiver.
Q5. What types of bow quivers are available?
Various types of bow quivers are available, including detachable, side, and hip quivers. If you have a detachable quiver on your bow, you can easily remove it when you're not using it. On the other hand, side quivers are usually attached to the side of the bow. Hip quivers, as the name suggests, are worn on the archer's hip and are commonly used in target archery.
Q6. How do I choose the right bow quiver?
When choosing a bow quiver, consider factors such as your shooting style, the type of archery you engage in, and personal preferences. Consider whether you prefer a quiver that attaches to the bow or is worn on the hip. It's essential to also think about how many arrows you usually bring and the dimensions and weight of the quiver.
Q7. Can I use any bow quiver with my bow?
Not all bow quivers are compatible with every bow. Some bow quivers are designed for specific bow models or types, so ensuring compatibility before purchasing is essential. Check the specifications and recommendations provided by the quiver manufacturer or consult with a knowledgeable archery professional.
Q8. How should I attach a bow quiver to my bow?
The method for attaching the quiver to the bow will differ based on the quiver type. Detachable quivers often have mounting brackets that can be secured to the bow's riser or limbs using screws or clips. Side quivers may require specific mounting hardware, while hip quivers typically have adjustable straps or belts for secure attachment.
Q9. Are there any maintenance tips for bow quivers?
To keep your bow quiver in good condition:
Periodically check for any loose screws or fasteners and tighten them if necessary.

Clean the quiver regularly to remove dirt, debris, and moisture that can accumulate over time.

If your quiver is made of leather or fabric, consider using leather conditioners or fabric protectors to maintain its durability and appearance.
Q10. Can I use a bow quiver for hunting?
Yes, many bow quivers are designed for hunting purposes. They are often lightweight, secure, and designed to minimize noise and interference in the field. Look for hunting-specific bow quivers with camouflage patterns, broadhead compartments, and quiet attachment mechanisms.
Q11. Are there any alternatives to bow quivers?
Yes, there are alternatives to bow quivers, although they may offer a different level of convenience. Some archers carry their arrows in separate arrow tubes or quivers that can be worn on the back or hip. Additionally, traditional archers may opt for back or ground quivers for a more formal and historical feel.
Conclusion
Most styles of archery come with their own needs. Competitive, leisure/practice and hunting are all different types of archery with different needs. For this reason, there's a quiver perfect for every style–be it competitive, leisure/practice-focused, or hunting-oriented. There are many diverse quiver models, including backpacks, belt quivers, and ground quivers. Find a durable model that will carry your arrows and arrowheads to your selected spot for archery. If you're considering purchasing a bow quiver, keep in mind that your needs might vary from other people's. When purchasing a bow quiver, it is essential to consider how much noise the unit makes, its appearance and whether you can afford it. Many major quiver brands are available at competitive pricing.